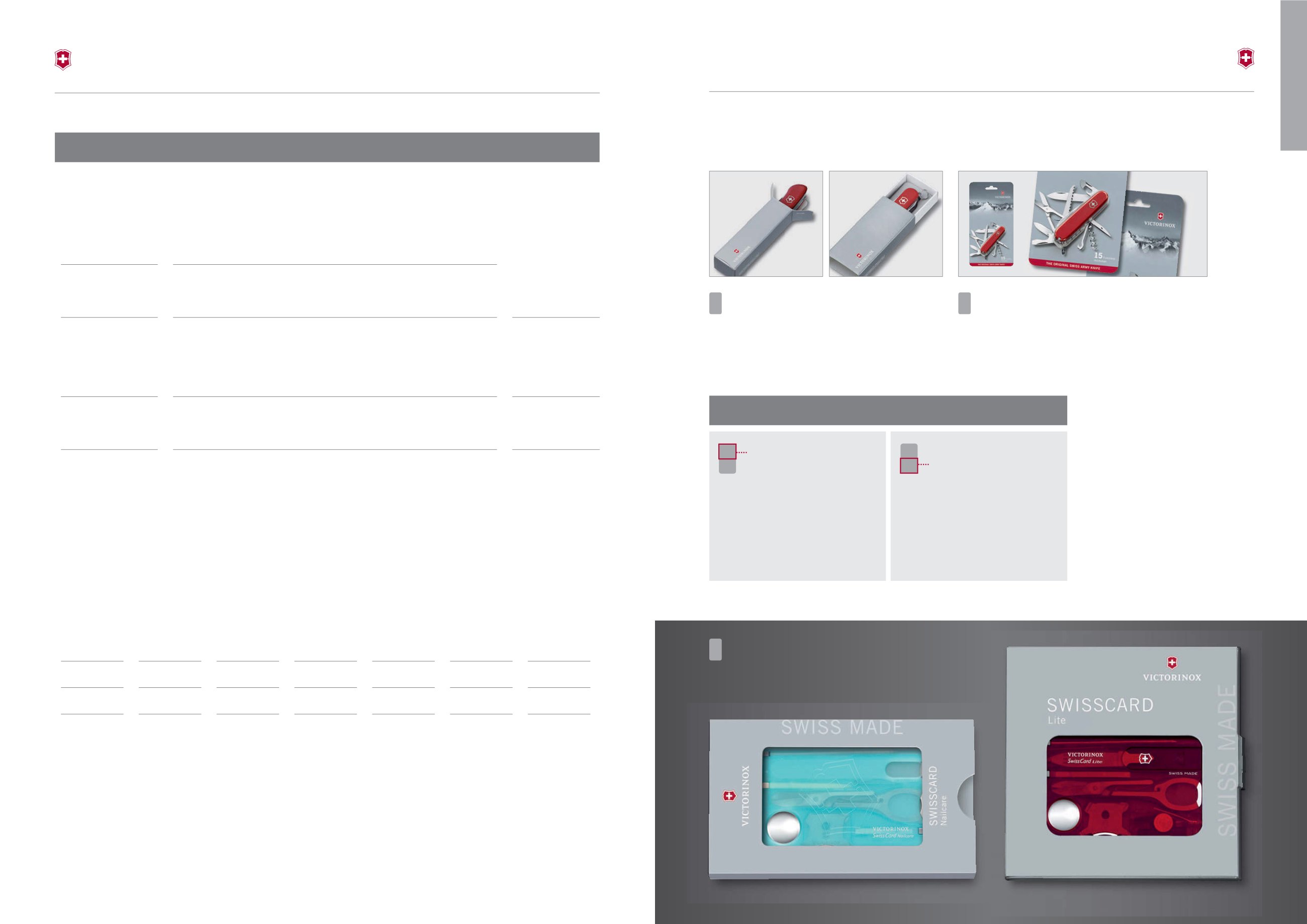 All pocket knife components (excluding rivets) are made from martensitic stainless steel. Making a blade that offers optimum functionality and durability requires
the right steel alloy. The steel must ensure excellent edge retention and sufƂcient resistance to rust, but should also be ƃexible so that it does not break during
Cellidor is an organic, thermoplastic cellulose ester that incorporates a high proportion of the
renewable natural material cellulose. Unlike traditional plastics, it is only partially dependent
on fossil fuels. Components made of Cellidor exhibit an exceptional high-gloss Ƃnish with
a perfect depth effect. To improve abrasion and scratch-resistance, scales printed with a
special promotional motif are treated with a protective coating.
Max. usable temperature 65 °C.
Acrylonitrile butadiene styrene is an amorphous thermoplastic. ABS plastics exhibit excellent
toughness, notched impact strength, impact strength, ƃexural rigidity and surface hardness.
Max. usable temperature 80 °C.
Nylon is a term commonly used primarily in the U.S. to describe polyamides (PA). Polyamides
are suitable for use in pocket knife scales because they exhibit better mechanical abrasion
resistance. This also has beneƂts from a production perspective. Compared to high-gloss
and smooth Cellidor components, they have a more structured surface .
Max. usable temperature 90 °C.
Alox scales are punched from aluminum, embossed and then anodised in a subsequent pro-
cess stage. The Eloxal process uses anodic oxidation to create a protective layer. This layer
of oxide is hard and protects the scales from damage and corrosion, up to a certain degree.
Wood is a natural, renewable resource. The walnut used by Victorinox comes from Swiss
forests and is in full compliance with EU Regulation No. 995/2010 (the EU Timber Regula-
tion). The wood of the walnut tree is very solid, tough and strong.
The following steel alloys are used for Swiss Army Knives:
All Victorinox alloys are in accordance with Regulation (EG) no. 1935/2004 for products that come into contact with food.
The letter in the icon (above) refers to the
The number in the icon (below) refers to
Please avoid ordering other sales units if
There are two types of packaging for pocket knives:
Standard packaging and blister packaging.
The following options apply to standard packaging:
Folded box, slide gift box and loose products.
Blister packed products are denoted with «B1» at the end of the
SwissCard Classic and Lite