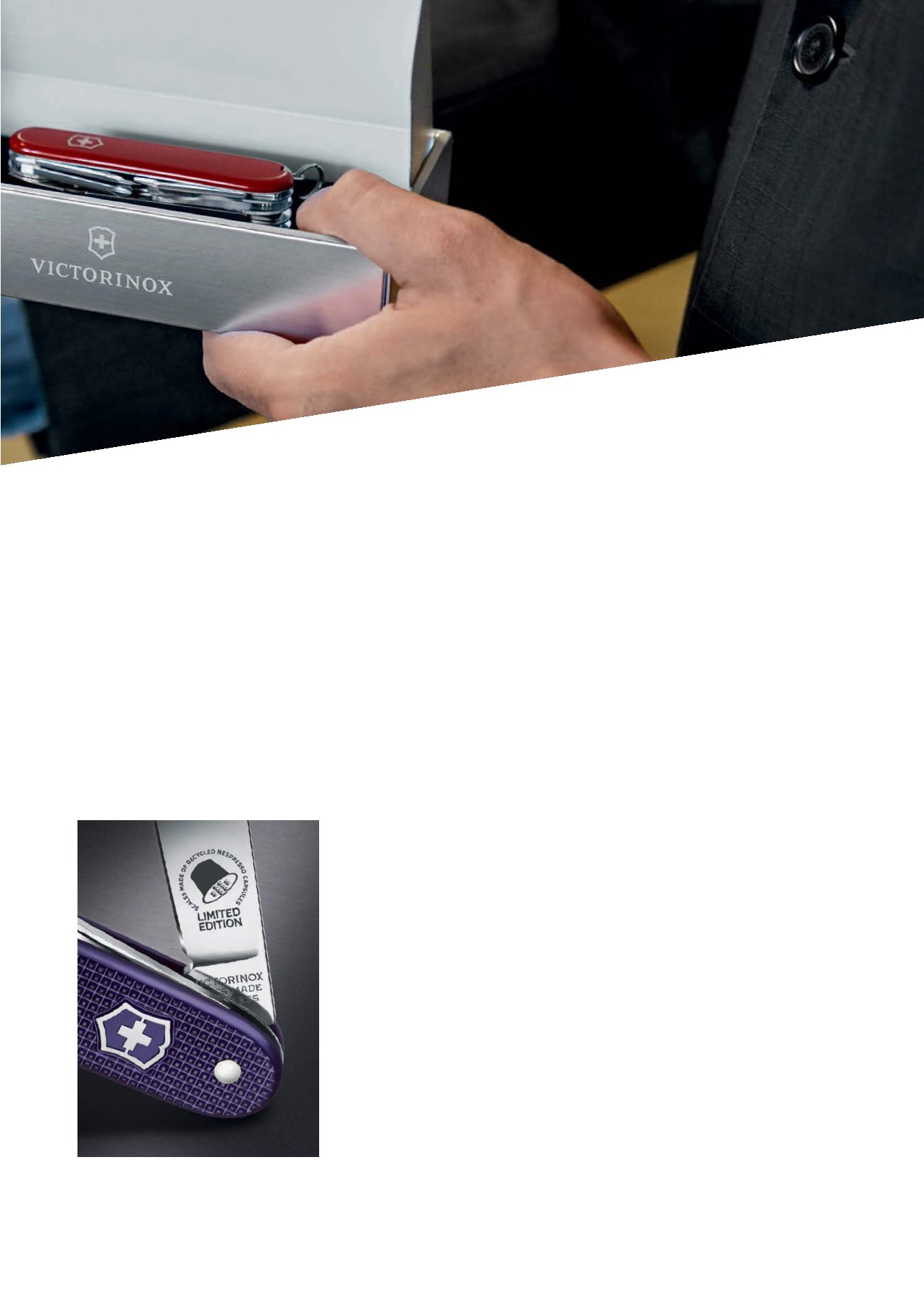 A fine example of a successful partnership:
Victorinox products are exceptionally robust
and long-lasting and the Swiss Made label
guarantees a powerful and positive image
As we have always done, we guarantee an
extremely good price-quality ratio.
That is what makes Victorinox products
such popular promotional items for the
A long-lasting message
Army Knife Ƃts comfortably in any pocket,
a Swiss Tool Ƃts in any drawer. For your
customers, this means Victorinox products
become companions for life, serving as a
permanent reminder of how your brand is
there to meet their needs.
Indestructible
Our products are built to
last, for now and forever. That means
there's a good chance your promotional
item will be handed down to the next
But if something does go wrong with your
product, you will receive no-nonsense full
service and replacement parts at any time.
In the case of pad or digital printing, we
apply a special protective lacquer and can
guarantee abrasion stability by a factor of
>100. We also provide a lifetime guarantee
for material and manufacturing defects.
Timeless
Victorinox products are proud
recipients of a number of design awards.
Our pocket knives feature in the permanent
exhibits of renowned museums such as the
MoMa in New York and are considered
design icons. The highest level of quality
Swiss craftsmanship can withstand
practically a lifetime of use, while the
iconic design also retains its timeless
Presented with pride
off a Victorinox pocket knife, tool or kitchen
utensil. It is a promotional item that you and
your customers can truly be proud of.
Sustainable
sustainability is very close to our hearts. We
have already received a number of awards in
recognition of our environmentally-
responsible practices, both in our
production processes and how we treat our
employees and suppliers. You can therefore
feel reassured when you give away our
products. With more than 130 years of
success, you can feel conƂdent and count
on a long-term partnership based on our